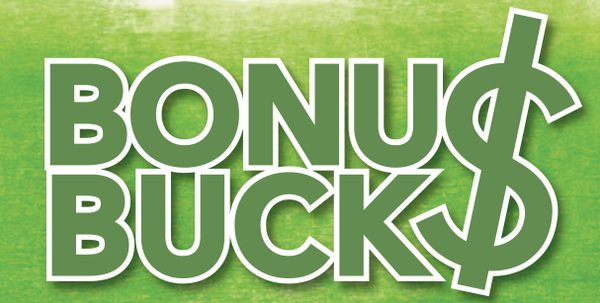 All Seasons Bonus Bucks
All Seasons Clothing Company would like to show our appreciation to our loyal customers by introducing our All Seasons Bonus bucks.
Free to Join - No cost for becoming an All Seasons Bonus Bucks member and the program is available to anyone.

Easy to Use - Can be redeemed at time of checkout.

How to Join - You can become a member in store at checkout or by texting BONUSBUCKS to 22828.

What's the Bonus to Joining - For every $1.00 dollar you spend, you will earn 5% back in All Seasons Bonus Bucks.

When will Bucks be Applied - Points will be applied to account within 24 hours of purchase.

When are Bucks Redeemable - Bonus Bucks are redeemable at any time.

Do They Expire - Bonus Bucks will expire the 1st of February each year. (Ex. Balance will go to $0.00 on 02/01 of each year)

At this time Bonus Bucks cannot be accumulated or redeemed for online purchases.
Thank you for shopping All Seasons Clothing Company!